Our Story / About Us
The History of Pepperidge Farm
The history of Pepperidge Farm is unique in American business. It was started in answer to a child's health problem by an extraordinary woman, Margaret Rudkin.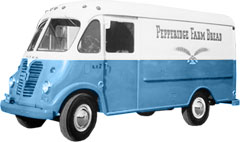 She had no manufacturing or marketing experience and very little available capital. What she did have was:
Dedication
Imagination and
A desire to produce a premium quality loaf of bread
The Pepperidge Farm brand was launched from a Fairfield, CT. farmhouse kitchen in 1937 with Mrs. Rudkin baking an all-natural bread as a mail order business. Word quickly spread and she was soon selling to local stores. Within 2 months due to the growth of sales, her operation moved from her kitchen to a garage and then to an abandoned stable on the property of Pepperidge Farm (named after a large Pepperidge tree on the grounds). In 1940, Pepperidge Farm moved to new facilities in Norwalk, CT and then in 1947 moved to its first modern plant designed by Mrs. Rudkin opened on Westport Avenue in Norwalk.
As the business grew and more markets were opening up in the Mid Atlantic States, another plant was built and opened in 1949 in Downingtown, PA, followed in 1953 by a Bread, Roll, Stuffing Plant in Downers Grove, IL.
Mrs. Rudkin was always looking to "What's Next". On a trip to Belgium in 1950 she discovered delicate out-of-the ordinary cookies at Delacre Co. in Brussels. An agreement was reached between the 2 companies and in 1955 Pepperidge Farm produced and introduced these elegant distinctive cookies in the New England area. She then saw an opportunity in prepared frozen foods such as turnovers and opened a frozen production line in 1958 in the Downingtown, PA facility. In 1962 after a trip to Switzerland the recipe was secured for the birth of the Pepperidge Farm "Goldfish" in America. Today, Goldfish® crackers continue to be a recognizable icon of the Pepperidge Farm brand.
Acquired by Campbell Soup Company in 1961, Pepperidge Farm is still headquartered in Norwalk, CT. Today, the company worldwide has more than 5,000 employees, and its products are sold in all 50 states and in over 40 countries. It is nearly a $2 billion business that produces over 200 products including Bread, Rolls, Cookies, Crackers, Pastries, Cakes, Texas Toast, and Croutons. The company has production sites throughout the United States in Bloomfield, CT; Downers Grove, IL; Downingtown and Denver, PA; Richmond, UT; Aiken, SC; Willard, OH; and Lakeland, FL. The original Norwalk Plant was closed in 2003 replaced by a new state of the art plant that is located in Bloomfield, CT.
In 2012 Pepperidge Farm opened a state of the art innovation center in Norwalk, CT. so that it could continue creating and developing new items that will ultimately delight consumers and strengthen already extremely powerful Pepperidge Farm® brand.